Friday (Oct 29) to Tuesday (Nov 3):
Friday morning we decided to travel west to visit a couple of spots near Topeka, Kansas. Our first stop was at a place called Rock City. As you can see by the sign below, this is the largest collection of these types of rocks in the world.
There was no one else at the place and a gentle rain was starting to fall, so we decided to take a few pictures and then head into Topeka. The rocks look like mushrooms growing out of the ground and there is another collection of these rocks west of Topeka in the Mushroom Rock State Park (smaller collection).
We found a winery located on the north side of Topeka, but when we pulled into the place they were closed. We decided to go into downtown Topeka to see if we could find a place to have lunch. There is a few block section of Topeka that has a number of restaurants and specialty shops that we ended up visiting. We found the Blue Skye Brewery and Eats and decided to give them a try.
We ordered one a sampling of their beers along with some appetizers to have with the beer. We liked their darker beers, especially their stout, more than the lighter lager beers in the samples.
The light rain continued in Topeka as we walked a few blocks to the local historical museum. We toured the museum for a while to learn about this area of Kansas and its history (and to get out of the rain). We tried to find a bison farm that we had seen on the web, but found out it has been closed for a few years.
On the weekend we took it easy and didn't do any traveling. There was not any activities in the area for Halloween, so we took a picture of ourselves in our "costumes" to send to Rhys McKay (my grandson whose birthday is on Halloween - he turned 3).
Sunday was cleaning and wash day since we did not know if we would have full hookups at the next location. During the afternoon we went into Chapman to see if we could find the Joe Engle Walking Trail (Joe is an astronaut from Chapman). We never found the trail but we did end up walking around the town for about 45 minutes.
Monday morning we packed up The Duchess and headed south. We had a couple of campgrounds on our list that were about 125-150 miles from Chapman. We stopped and looked at one in Iola KS but it was right on the highway so we decided to keep on going. We traveled a few more miles south to Chanute KS where the town has a campground in the city park that you can stay at for two nights "free". We found the campground at the Santa Fe City Park and decided to take advantage of the free camping. The campground has a section with 50 amp electric/water and another section with 30 amp/water. We camped in the one with the 50 amp electric.
We found out that this campground is located near the Kansas RV Service Center. This service center is a holdover from the NuWa RV manufacturing plant that was located here in Chanute for about 50 years until it closed in 2012. The company made several models of 5th wheels and they kept the service part of the business open when they closed down the manufacturing portion of the business. They have since expanded their business and will service any 5th wheel or travel trailer in their shop. We were the only non-NuWa RV in the campground during the two days we were there. We met almost all of the other people in the campground who were all here to have work down on their NuWa 5th wheels. The park has a number of softball/hardball baseball fields along with an abandoned 9 hole golf course that has a walking trail that follows the old cart paths along the course. There is also two small lakes located in the park. We got out and walked around the park after we had setup the motorhome.
The next day (Tuesday) we ended up visiting with several other couples who are in the campground waiting on their scheduled time in the service center. Mike & Sue are a couple from Wisconsin who are full timing in their 5th wheel. They have been workamping for the last two years and are headed to south Texas for a winter workamping job. Harry & Pat are full timers from Georgia who just got back from a trip to Alaska in their RV. They spent about two months traveling around Alaska and had a great time. Al & Verna are Canadians who are on their way to Pharr Texas for the winter. They have been going to Texas for several years now after wintering in Arizona before that.
We visited the main part of Chanute and walked around the small downtown area. We saw a pharmacy that still has a soda fountain shop in their store. Also stopped in the local museum/library for a few minutes to see a few items about the area and then stopped in an old hotel that has been remodeled into extended stay suites (built in the 1920's for $210,000). On the walls of the hotel lobby there were a number of photographs of a couple from Chanute (the Johnsons) who had traveled all over the world from 1905 to 1930's and documented their travels.
This intersection in downtown Chanute is the default position of the Macintosh version of Google Earth. Dan Webb, the software engineer who is responsible for this, is from Chanute.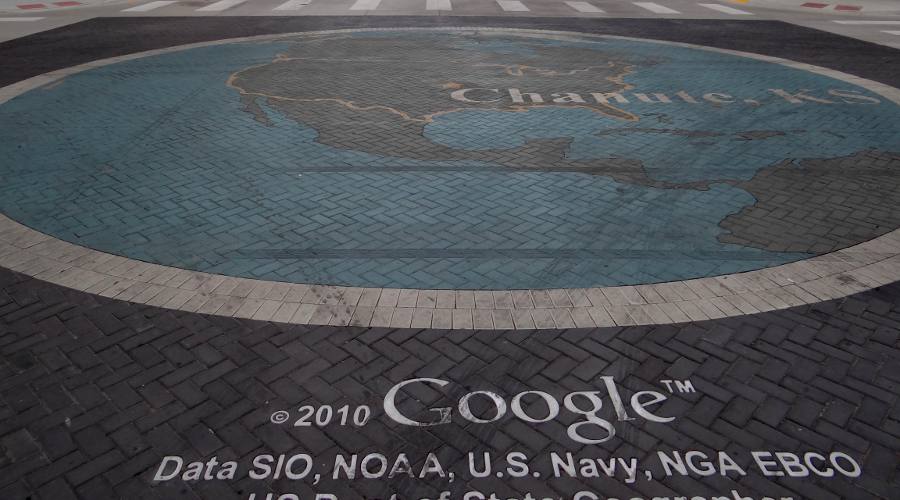 We invited everyone over to our RV for the evening (Happy Hour) and had a great time meeting and getting to know these couples. In one of those small world happenings: Mike and Pat had both work at UPS for more than 30 years each (Mike in Wisconsin & Pat in Georgia). We enjoyed hearing stories about their years at UPS.
Mike & Sue (left) - Harry & Pat (upper right) - Verna & Al (lower right)